Environment´s information
The Navarre track from Camino de Santiago from the reservoir of Yesa up to Monrel is a tourist destination, mainly highlighting the historic-artistic heritage of Sangüesa, specially its church of Santa María, and in Moreal its medieval bridge attracks the attention. In the closest environment is the Adventure Park Aramendia. Far from Sangüesa is worth to highlight the monastery of Leyre and the castle of Javier. Likewise it is worth to highlight foz de Lumbier and the waterfalls of a Piedra and San Adrián and a little bit more to the Northeast, foz de Arbayun. In the East you can get closer to see the rural Romanesque serie of churches of the Valley of Valdorba, very interesting. In the South the Romanesque crypt of Gallipienzo is waiting for us. In San Martín de Unx there are good wines and one of the best Romanesque churches of Navarre, dedicated to San Martín de Tours.
Leache
It is located in the Medium Area of Navarre, in the Valley of Aibar located in a natural privileged environment. Ideal for resting and practice hiking. Parish with the Romanesque façade (monogram of Christ and figurative capitals) and big Romanesque altarpiece. The old fountain is rebuilt. At the beginning of the village, tower of the palace.
Tours
Within a radius of 35 km. you can visit:
-Medieval villages of defensive character perched in the mountains for its defense (Aibar, Cáseda, Gallipienzo, Ujue, Uncastillo, Sos del Rey Católico);
-Castles or medieval towers (Castillo de Javier, Olite, Peña);
-Monasteries (Leire, La Oliva);
-Small cities with history from ages and remarkable artistic heritage(Sangüesa, Olite, Tafalla);
- Places of high natural and landscape value(Foces de Lumbier y Arbayún, Sierra de Leire, Sierra de Izko, Pantano de Yesa).
And very close to the Navarre and Huesca Pyrenees.
Activities
Hiking, cultural tours, etc..
WHERE TO GO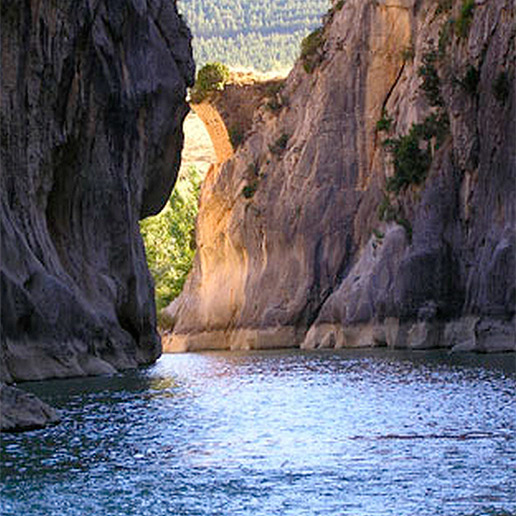 Foz de Lumbier
Es una profunda y estrecha garganta en torno al río Irati de una longitud de algo más de un kilómetro y un desnivel máximo de 120 m. Reserva Natural ideal para disfrutar de un paisaje impresionante, p...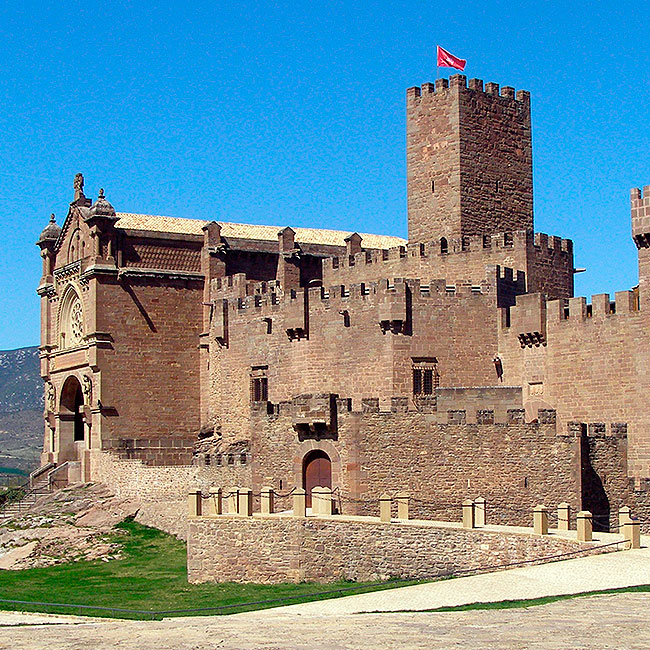 Castillo de Javier
Sus torres almenadas recortan el cielo reforzando su encanto medieval. Cuna de San Francisco Javier, a 8 km. de Sangüesa, al que peregrinan miles de navarros en la Javierada. Su conjunto arquitectónic...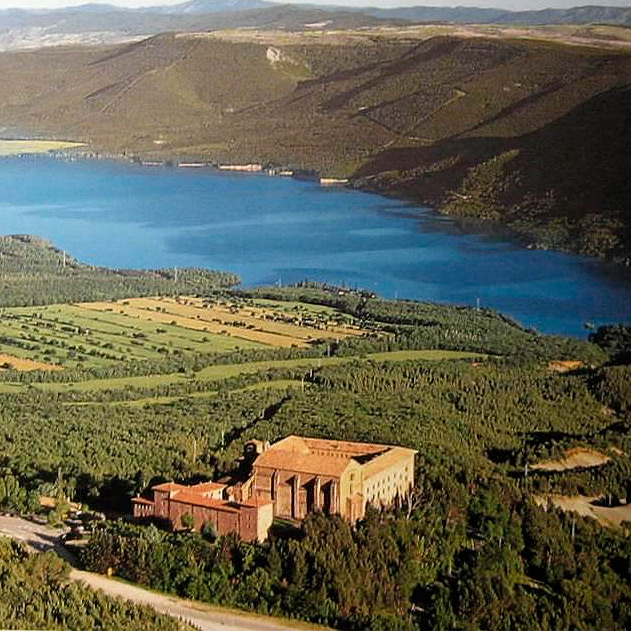 Monasterio de Leyre
Uno de los mejores monasterios de España situado en un bello entorno natural en el que un románico naciente aflora de manera singular de los siglos XII y XII. Y cerca se encuentra el embalse de Yesa c...
UPCOMING EVENTS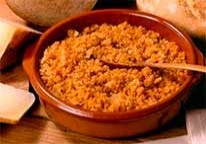 Migas de Ujué
En Ujué, 24 de septiembre
Desde hace algunos años, en septiembre se da cita en la bella localidad de Ujué, la Fiesta de las Migas. El nombre del festejo recuerda la esencia del mismo, pues el acto central es precisamente la de...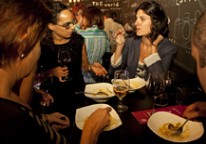 Semana de la Cazuelica y el Vino
En Pamplona, del 6 al 15 de octubre
El calendario gastronómico de Navarra tiene una cita imprescindible en otoño, la Semana de la Cazuelica y el Vino. Se trata de una ocasión única para dar a conocer el carácter de la cocina regional, q...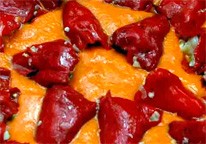 Día del Pimiento del Piquillo
En Lodosa, del 6 al 8 de octubre
En otoño, Lodosa dedica una fiesta a su producto más preciado: el oro rojo de la huerta, el pimiento del piquillo. Una jornada-homenaje en la que Lodosa se llena de puestos de alimentación, ofrece deg...